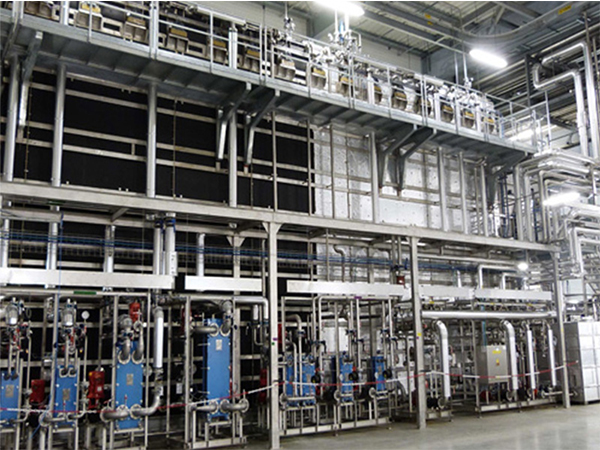 Continuous hydrostatic sterilizer system is designed according to different requirements of customers. The entire production process, from raw material supply to technical design, process production, quality management and on-site installation and commissioning, is guided, supervised and trained by professional engineers. Our company introduces advanced technology and professional talents from Europe. The system has the characteristics of continuous work, unmanned operation, high safety, energy saving and environmental protection.
The equipment is composed of main body, base, operating platform, piping system, control system and packages inlet and outlet system. The main body of the equipment is composed of several groups of different modules, and each module contains several cavities. All cavities are divided into three parts, which respectively bear the functions of boosting heating, pressure holding and sterilization, and pressure cooling. When the packages are driven by the product loading mechanism through the whole equipment, the whole sterilization process can be completed and the packages enters the transport and packaging process in the rear section.The working principle of the equipment is as follows: the water is injected into the set space, and the water column is formed into high and low liquid level through pressure, thus forming the pressure difference, which enables the product to increase or reduce pressure step by step and increase or decrease temperature at the same time when passing through each cavity, thus completing the entire sterilization process.
Advantages of continuous hydrostatic sterilizer system
●Strong versatility, wide range of applications
Suitable for different types of packaging products, and pressure, temperature adjustable according to different products, one system serves for several packages.
●Suitable for different recipes
One system with water spray and direct steam sterilization functions.
● Compatible with high temperature sterilization and pasteurization
●Good sterilization time, sealed products can be sterilized without waiting
● Automatic and continuous operation, suitable for high volume users.
● Low operation cost
● Energy saving
●Low maintenance cost
●Long service life